Dr. Sandra Fortenberry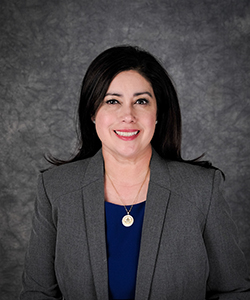 As a Hispanic Serving Institution and one of the most diverse optometry programs in the country, the University of the Incarnate Word Rosenberg School of Optometry (UIWRSO) is proud to welcome our new Dean, Dr. Sandra Fortenberry as the first Hispanic woman to lead an Optometry program in the nation.
As a first generation college student, she began her studies at Abilene Christian University and completed her Doctor of Optometry at the University of Houston College of Optometry, where she also completed a post-graduate residency in community-based family practice.
Dr. Fortenberry joined UIW in the Spring of 2010 as part of the founding faculty significantly contributing to the development of a culture built on principles of human dignity and social justice. She has consistently demonstrated her dedication to the optometric education and professional success of her students, fellow faculty, optometric colleagues and community partners through her previous leadership positions at UIWRSO including Director of Continuing Education, Director of Professional Relations, and Assistant Dean for Professional Advancement.
As further evidence of Dr. Fortenberry's passion for the Optometry profession and commitment to advancing quality patient care, she was elected to the Board of Trustees of the Texas Optometric Association (TOA) in 2012 and 2015. Fortenberry served on the TOA Executive Leadership committee for 5 years, ultimately meeting the call and serving as President. She is a Fellow of the American Academy of Optometry and a member of the American Optometric Association (AOA), where she also was named the 2013 AOA Young OD of the Year.
Dr. Fortenberry offers UIWRSO a unique combination of institutional memory understanding how far we have come, a deep appreciation and belief in our culture and mission as well as a passion for the advancement of the Optometry profession. Through Dr. Fortenberry's leadership and vision, we are truly excited for the future of UIWRSO.