The University of the Incarnate Word Rosenberg School of Optometry (UIWRSO) is one of only 23 Optometry Schools in the US and the only School associated with a Faith-Based Institution in the nation. UIWRSO offers a Bachelor of Science degree in Vision Science which is a pre-optometry pathway. This is the only program in the country where undergraduate students spend a substantial amount of time learning under the guidance and supervision of clinical academic faculty and professional staff in both the classroom and out-patient clinical settings.
Go To School For A 4 Year Pre-Optometry Program At UIWRSO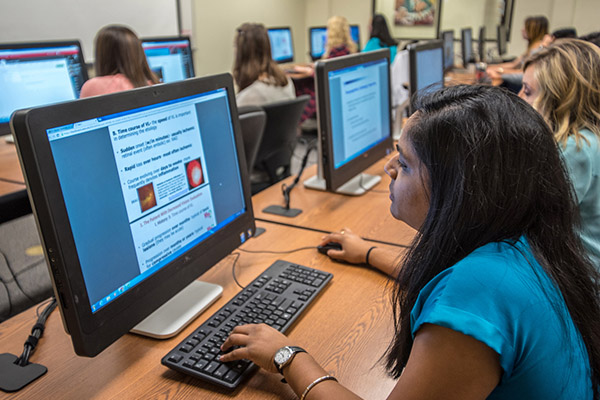 Students are challenged and enlightened by unique insight and experiences, motivating each student to pursue rewarding careers. The Vision Science courses are conducted by Doctors of Optometry, many with Doctors of Philosophy in vision science and related fields as well as substantive research training. Students receive challenging, contemporary didactic courses in applied vision science, neuroscience of the visual system, physiology and anatomy of the eye, pharmacology, as well as optics. This is also the only national preparatory vision science undergraduate degree program where students spend 3 rotations working with professional school interns in our outpatient facility. This three-semester Clinical Internship combines basic training in optometric techniques with clinical observation and participation at the UIWRSO Eye Institute. Brief, informative seminar-lectures are followed by optometric skills training in the basic optometry lab, alternated with in-clinic observation and participation. Hence the student trains and then applies their skills and new-found knowledge in a clinical setting. The combination of professionally administered didactics, clinical training, and real-patient encounters is unique in the undergraduate setting making the UIWRSO Program ideal for matriculation of motivated students to make substantive contributions to health care and research.
Students are actively engaged in the culture of the Professional School, having the opportunity to participate in outreach programs with the Professional School Interns. Additionally, Vision Science students are in a unique position to have direct access to a Professional Optometry School, including resources from the UIWRSO Office of Student Affairs. UIWRSO also provides opportunities to assist in preparing for the Optometry Admissions Test.
The University of the Incarnate Word is grounded in the strengths of its heritage in health services and education and has been built on the tradition of serving the sick and the poor. The design, focus, and spirit of the Vision Science Degree Program will produce graduates that are well-trained and prepared to pursue professional healthcare education/degrees, medical/vision research, and many other work opportunities in the healthcare and industrial areas.
---
Educational/Career Paths and Opportunities
Employment of optometrists is expected to grow by 27 percent from 2014-2024, much faster than the average for all occupations. Because vision problems tend to occur more frequently later in life, more optometrists will be needed to meet the health
needs of an aging population. Also, the number of people with chronic diseases, such as diabetes, has increased in recent years. These diseases frequently cause vision problems and require treatment from optometrists.
The B.S. in Vision Science provides students the opportunity to earn a degree which satisfies the prerequisite requirements for entrance into UIWRSO as well as majority of prerequisite courses for medical, dental, and other health-related professional schools. Students who complete a B.S. in Vision Science will be well prepared and well positioned to enter a number of areas:
Doctoral degree in optometry
Professional degrees in other health-related areas
Graduate degrees in vision science or other biomedical sciences
Employment with contact lens companies and corporations: sales, development, research
Employment with optical lens frames manufacturers: sales, development, research
Pharmaceutical sales representative or pharmaceutical research
Low vision rehabilitation trainer and technician
Research assistant in the field of optics, environmental vision, or visual ergonomics
Vision insurance staff or auditor
Ophthalmic office manager
Optical project manager
Research assistant in any biomedical or physical field
---
Minimum Scholastic Requirements for Application to the Rosenberg School of Optometry
Candidates from the Vision Science Degree Program may submit applications for consideration of admission to the Rosenberg School of Optometry upon completion of the following scholastic requirements:
A minimum of 90 undergraduate semester credit hours from an accredited college or university
A grade of C or higher earned in all prerequisite courses
Completion of The Optometry Admission Test (OAT); information may be obtained at the OAT website.
Admission to the Rosenberg School of Optometry is a competitive process. In addition to the scholastic requirements listed above, applicants will be considered for admission based on academic and personal qualifications. Additional information regarding specific application procedures and admission requirements may be obtained by visiting the office of admissions or by contacting the Director of Admissions and Student Services for the Rosenberg School of Optometry at optometry@uiwtx.edu.
Completion of the B.S. in Vision Science does not guarantee entry into UIWRSO, but does provide a solid foundation on which to build a competitive application.