UIWRSO Claims 3rd Place in First Annual Essilor Academic Challenge
November 9, 2018
The University of the Incarnate Word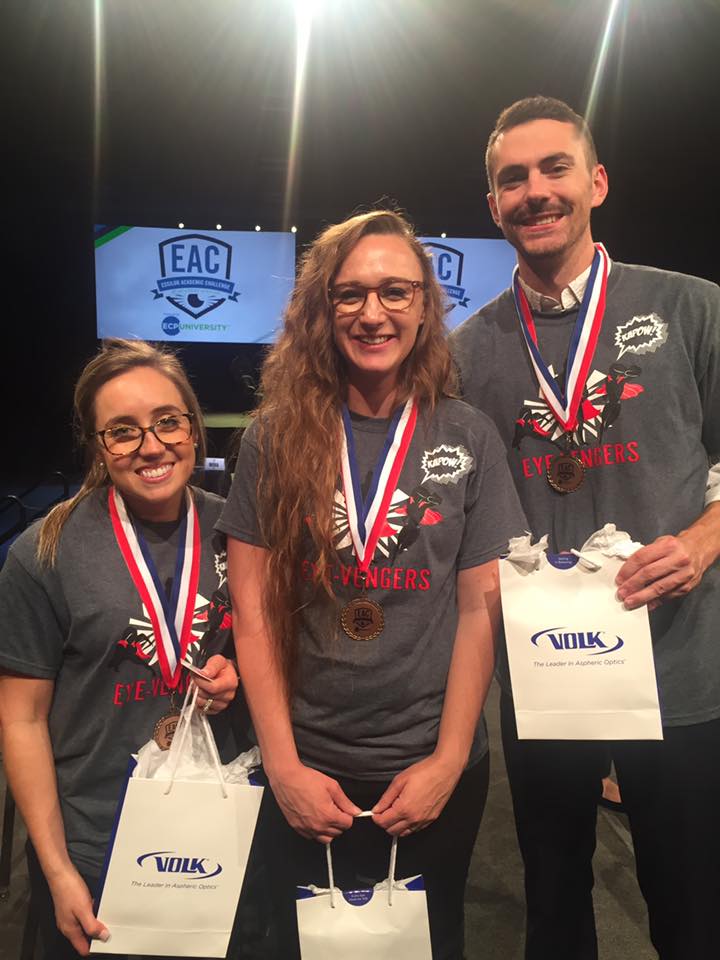 Rosenberg School of Optometry (UIWRSO) congratulates Emily Zediker, Aneal Dosch, and Alden Negaard, on capturing 3rd place in the First Annual Essilor Academic Challenge hosted at the American Academy of Optometry (AAO).  The 3-student team, also known as the EyeVengers, delivered a courageous performance that confirms their achievement of super-hero status. 
The event opened with teams from 22 optometry programs, divided into 4 regional divisions, competing for the right to advance to the semi-finals. Each division was assigned an optometry themed name and was comprised of schools based on geographic region.  UIWRSO was assigned to the Macula Division which matched them in competition against the following schools/colleges of optometry: Pacific University (PUCO), UC Berkeley (UCB), Western University of Health Sciences (WUCO), Southern California (SCCO), and Midwestern University (AZCOPT). 
The first-round of 15 optometry-related questions, with increasing level of difficulty, were presented to all teams with responses collected via polleverywhere.com.  The EyeVengers breezed through the first round, having answered every question correctly, and finishing with a score of 13,217 which represented the highest of all competing institutions across all divisions. 
Following their heroic performance in the first-round, the EyeVengers advanced to the Semi-Final Round (Final 4), where they competed against the other divisional round winners.  In addition to UIWRSO, Massachusetts College of Pharmacy and Health Sciences (MCPHS), the Ohio State University (OSU), and Southern College (SCO) emerged victorious in first round competition.  As the stakes increased, so to did the difficulty of the questions in the semi-final round featuring 15 new questions.
A strong semi-final performance by the EyeVengers was only bested by OSU and SCO.  The EyeVengers cemented their status as heroes in the minds of all of UIWRSO family and community in attendance and viewing the competition through live-streaming.  
Essilor has introduced a plan for the future to initiate this competition earlier in the academic year culminating with the final round at AAO.  Congratulations to the UIWRSO super-heroes and the legendary status you have earned.