EyeVengers Claims 3rd Place
October 31, 2019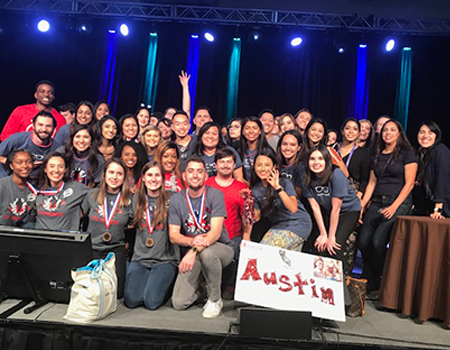 For the second time, the University of the Incarnate Word Rosenberg School of Optometry (UIWRSO) placed 3rd in the Essilor Academic Challenge (EAC). The competition between 25 optometry programs was recently held in Orlando, in conjunction with the American Academy of Optometry (AAO) annual meeting. With their third place finish, UIWRSO is one of only two schools that has placed in the top 3 each year of the event. The team of Jordan Speir, Rachel Warner, and Austin Barr, known as the EyeVengers, performed admirably as they navigated through the competition. The EAC is divided into three rounds, each comprised of 15 questions that are progressively more difficult. Teams are tested on their knowledge in topics such as Optics, Retinal Physiology, Retina, Ocular Disease, and others. In addition to submitting a correct answer, competitors are also awarded points based on the speed of their response.
UIWRSO climbed the standings throughout the competition, saving their best work for the round with the most challenging questions. The EyeVengers finished round one in a tie for 7th place, climbing to 4th at the conclusion round 2. As a reflection on the depth of their academic training in optometry, the team continued their climb in round 3 claiming a third place overall finish. The UIWRSO cheering team comprised of over 50 students, faculty, and administration roared with approval as the EyeVengers were called to the stage to be recognized for finishing in the top 3. Assistant Clinical Professor and team coach, Dr. Jeannette Wong-Powell, adds, "It's a joy to see passion for the art and science of optometry in our students and a strong camaraderie amongst the entire student body. The future of optometry is bright and something to be proud of!" With their third place finish, the team competitors were presented $500 each, along with a Volk Superfield lens.
UIWRSO is proud of our student participants and extends a heartfelt congratulations!