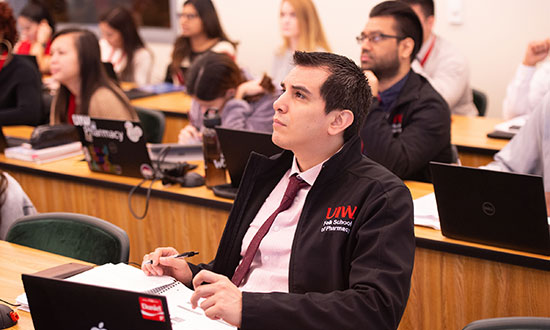 Please find a list of Frequently Asked Questions related to both enrollment and licensure. This list will provide basic answers to many of the most commonly asked questions. You are encouraged to review more specific details by visiting the Graduation and Commencement pages.
Letters verifying attendance for various reasons should be requested from Student Affairs. A request can be submitted directly to
optometry@uiwtx.edu
Questions regarding class rankings should be submitted directly to Dr. Moore at
reneem@uiwtx.edu
You can request a transcript through Bannerweb by following the instructions below. Please note, if this is for a state license, typically they will require the transcript to include the degree conferral date. Therefore, please be sure to indicate you need the transcript to be released only after the conferral date has been added. Though the Registrar's office does prioritize our students, this can take a few weeks post-graduation.
Log onto Cardinal Apps to access Bannerweb via the portal
Click on the BannerWeb shortcut
Click on Student Services found on the Main Menu page of Bannerweb (highlighted in blue)
Once on the Student Services Main Menu, click on Student Records (highlighted in blue)
Next, Click on Request Printed/Official Transcript
Follow instructions as prompted
All licensing pages requiring verification and a dean's signature should be submitted to the Student Affairs Coordinator. The forms must be originals and can be directly dropped off or mailed to the RSO physical address. Graduation verification will be completed and given to the Dean for signature. This process is dependent on the Dean's schedule so please plan ahead and consider all license application deadlines when coordinating this process.
Once completed Student Affairs will contact the graduate or alumni to inform the document is ready for pick up. For those coordinating this process remotely, we can mail the original document back to the graduate or alumni. Please provide us with the physical address.
For Texas State Board – must provide the original document, page 6
If submitting remotely/externship site, mail form directly to Student Affairs and provide an address where to mail it back
If submitting directly to the office, leave a phone number so we can call when the form is completed and ready to be picked up
---
RSO Address:
Rosenberg School of Optometry
9725 Datapoint Drive, CPO 17
San Antonio, TX 78229
Make sure to check for a specific state by state licensing information to better understand the requirements. Please note that historically states requiring a diploma for state licensing have accepted a letter from Student Affairs verifying graduation. Please simply contact the Office of Student Affairs for more information.
Visit the National Board of Examiners in Optometry for more information.
Yes. RSO has notaries on campus that are available at no charge. Grace Rios from Student Affairs and Dr. Dede Rios from the library. However, the student must show up in person to take advantage of the notary services.
Upon your graduation and conferral of degree, Student Affairs and the Registrar's office work together to process all professional students graduation information. This includes verifying graduation for each student with the National Board of Examiners in Optometry. The entire graduation audit process does take a few weeks post-graduation to complete.
The National Board will release a free cumulative score report to you and the state boards you selected during your registration process. The scores are released to the State Board(s) electronically in order for the information to be retrieved. When contacting a state board, please have your OE Tracker number available. You may review and/or update your release selection by reviewing your profile.