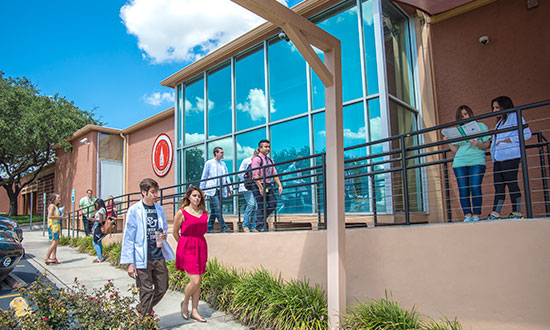 The UIW Eye Institute is a full scope, state of the art clinic, located on site of the main Rosenberg School of Optometry facility. Students will gain clinical experience and expertise by rotating through the following services:
The Adult Care Services provide primary eye and vision services to the adult population age 18 and older. Our Adult Care Services engage a large volume of complicated, high medical acuity patients providing the interns with a vast array of clinical presentations. The Adult Care Services also incorporates basic contact lens services, optical service, and the diagnosis, treatment, and management of acute ocular disease.
The Pediatric Service provides routine and specialized care to patients from newborns up to age 18 years. Third-year interns are provided with instruction and perform direct patient care for the pediatric patient population. Interns are exposed to a variety of equipment, techniques, and testing procedures in order to be able to evaluate children of any age and to obtain meaningful clinical data for diagnosis and treatment.
The Cornea and Contact Lens Service engages specialized contact lens fits for patients where contact lenses are either the only or best optical corrections. This includes patients suffering from corneal damage secondary to trauma or corneal diseases, dystrophies, and degenerations resulting in an irregular cornea. The Cornea and Contact Lens Service employ all forms of contact lenses in patient management including gas-permeable rigid lenses, scleral lenses, bi-toric lenses, soft toric lenses, and bifocal contact lenses. Additionally, this clinical site offers corneal refractive therapy.
The Vision Therapy and Binocular Vision Service provide direct patient care, treatment, and therapy for patients suffering from accommodative and binocular vision disorders such as strabismus and amblyopia. The patients undergo a structured, supervised in-house therapy program for the correction and remediation of these binocular vision problems. The Vision Therapy and Binocular Vision Services contain all state-of-the-art technology therapy. This service provides testing and remediation of visual-perceptual disorders frequently found as the root cause of learning disabilities and poor academic performance. Vision Therapy and Binocular Vision diagnostic and treatment techniques have been found to be extremely effective in helping patients with Traumatic Brain Injury (TBI). TBI is quickly becoming a large percentage of patients seen in this service.
The Visual Neurophysiology Service (VNS) uses advanced electrophysiological testing procedures to evaluate the integrity of the visual system from the retina through the optic nerves and optic tract, into the lateral geniculate body and optic radiations, to the occipital cortex of the brain. These procedures are extremely valuable in the evaluation of non-verbal patients, patients with retinal and optic nerve disease, and patients with visual complications secondary to neurological disease. The VNS also employs advanced testing procedures for visual acuity, color vision, and amblyopia. The procedures include Electroretinogram (ERG), Visual Evoked Potentials (VEP), and Electrooculogram (EOG).
Recently, the UIW Eye Institute has added a Dry Eye Service to expand the scope of available patient care at this facility.